Jemi C-5010-T ECO Conveyorband Washer
A powerful and durable machine, the C-5010-T ECO is designed for use in very high volume facilities (hospitals, schools, restaurants).
It maintains the simplicity of smaller machines, yet delivers at a much more astounding rate, so it is able to manage the day-to-day rigors of a high volume facility.
Every inch of its design is tailored to its efficient use.
Output – This model has 2 speeds.
This model processes: 2200-3400 plates per hour.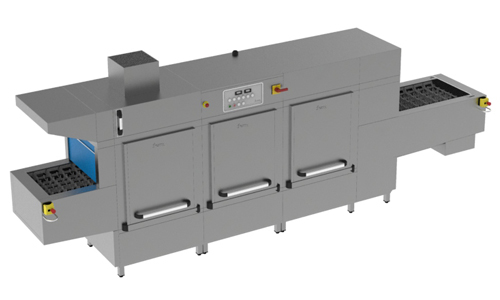 Overview
External dimensions (mm): 5010 x 830 x 1715
Usable height (mm): 450
Entrance module (mm): 720
Useful exit (mm): 1150
Production plates per hour: 2200 – 3400
Speeds: 2
Pre-wash pump power (Kw): 2
Wash pump power (Kw): 2
ECO pump power (Kw): 0,074
Tank heating element (Kw): 18
Boiler heating element (Kw): 24
ECO-rinse heating element (Kw): 6
Dryer heating element (Kw): 6
Total power (Kw): 47
Voltage: 230 – 400 V / III / 50 – 60 Hz
Key features
Pre-wash + Post pre-wash rinse + Wash + Double rinse + Enhanced ECO-Rinse + Drying
Heavy-duty robust construction
High grade 18/1 stainless steel finish
Characteristics
Double back wall
Stainless-steel construction in 18/10 inox (1.5mm thickness)
Control panel at top part of unit
Security microswitch on doors
Energy economiser
Detergent and rinse dispensers included
Water filtration and water softening units
Optional extras
Additional 12kW boiler
6.18kW hot-air drying module
12.18kW hot-air drying module
Steam heating
Special voltages
Double-walled insulation
Stainless-steel wash distributor
Pair of side wash arms
Stainless-steel wash arms
Additional 880mm module
Additional 620mm module
Split machine
Modifications to the width and usable height of the machine
Peristaltic detergent pump
For further information call 0113 263 1010