Jemi Bottle Washer GS 21
The GS21 is the first of its kind bottle washing machine, there is nothing like this washer on the market.
We have designed a new wash an rinse system to shoot up into each individual bottle.
This machine is perfect for restaurants, bars, brewers for cleaning beer bottles, wine decanters or any other glass bottles.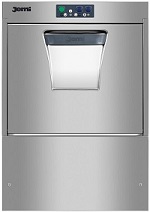 Overview
Dimensions (mm): 580 x 630 x 820
Basket dimensions (mm): 500 x 500
Bottles / hour: 190
Time / circle (min): 6'30"
Wash pump power (Kw): 0, 736
Tank heating element (Kw): 2 x 2,4
Boiler heating element (Kw): 4,6
Total power (Kw): 9,736
Voltage (single phase): 400 V
Key features
Made of stainless-steel
Simple wall
Easy operation and maintenance
Minimum consumption of energy and water
Fixed washing system
Fixed washing arms to give coverage of all of the glasses/plates all of the time
Sanitising rinse system
Easily removable for cleaning
Double filter in tank
Wire racks measures 500mm x 500mm
Characteristics
Double door
Double construction wall
Pressed tank
Bayonet washing arm
Rounded corner tank
Double filter in tank
Detergent inlet inside tank
Security valve
Safety thermostat
Analog thermostat
For further information call 0113 263 1010