Jemi launch the new GS-21 Bottle Washer
Jemi in conjunction with Ebatec have developed this unique machine which is perhaps the only compact front loading Bottle Washer currently on the market.
It is capable of cleaning a vast range of bottles of varying sizes and shapes, the GS-21 can also wash containers, drums and beer crates, its unique washing system provides a powerful wash and cleansing rinse of a full rack of bottles in 6.5 minutes with minimum water and energy consumption.
Standard eq
uipment includeds one fully adjustable bottle cage as well as a tray carrier insert, the GS-21 occupies a limited space of 580mm (width) x 650mm (depth) x 820mm (high).
A 400mm floor stand can also be supplied to bring the machine up to a convenient working height. 
A peristaltic detergent pump is included in the machine, we also supply a specific washing detergent.
The bottles are rinsed with fresh cold water at the end of the cycle via a rinse booster pump, this ensures they are completely clear of detergent and ready to be refiled.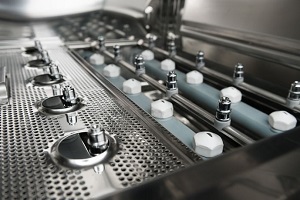 The wash and rinse system specially developed for bottle cleaning ensure hygiene on the highest level and guarantees that all types of germs are removed.
The wash and rinse jets sit side by side and ensure superb cleaning and rinsing results with jets precicelsy aimed directly into the neck of the bottles.  
Dimensions                      Power Consumption                        Equipment
Width 580mm                   Wash pump power 736W                  One bottle basket (500x500mm)
Depth 650mm                   Tank radiator 2x4500W                     One carrier rack for beer bottles (500x500mm)
Height 820mm                  Total power 9736W
                                          Voltage (tri phase) 230/400V
Washing time: 6 min 30 sec.
Find out more about this revolutionary product by contacting us at: +44 (0) 113 263 1010 or info@jemi.co.uk.